Our stud
Deja vu (State Premium Mare licensed by the Hannovarian and Westfalian breeding association)
Already seen? ... Sure, can't deny her daddy
Damon Hill
Donnerhall
Donnerwetter
Ninette
St.Pr.St. Romanze
Rubinstein
St.Pr.St. Pia
Finette
Florencio
Florestan
Walessa
St.Pr.St. Duenett
Duerkheim
St.Pr.St. Winnie
This dark chestnut mare (born in 2011) has already thrown her hat in the ring.
Elite mare show Westfalia, Broodmare show Hannover, mare performance test, Young Horse Test, ... she is always at the forefront and inspires with her three impressive paces and her outstanding ease of riding. We intend to enable her a gentle access to the dressage world. Therefore, we take her for trail rides and give her a time-out every day with her friends and siblings in the meadows. we are excited to see her developing.
Hannoverian black mare, born on 30th April 1999
Weltmeyer
World Cup I
Woermann
St.Pr.St. Sendernixe
St.Pr.St. Anka
Absatz
St.Pr.St. Adelsbuch
Atacama
Akzent II
Absatz
Wega
Fiesta Mexicana
Ferdinand
St.Pr.St. Meefuerstin
Westvirginia is a beautiful black mare, who has produced very good offspring already. Bred and ridden by us we started breeding with her when she was 4 years old. Only in the past 3 years she had offspring from:
- 2017 Millenium (colt)
- 2016 Morricone (mare)
- 2015 For Romance (colt)
From her motherline stem such important colts like Goldferdl, Damocles, Wendelin I und II and diffenernt others. The motherlines goes back to Fiesta Mexicana (by Ferdinand). As we want to start breeding with one of her daughters, who is already 10 years old (by Hotline), we would like to forward our "Princess" to engaged breeder hands.
Finette
Brown hannoverian mare, born on 20th February 2006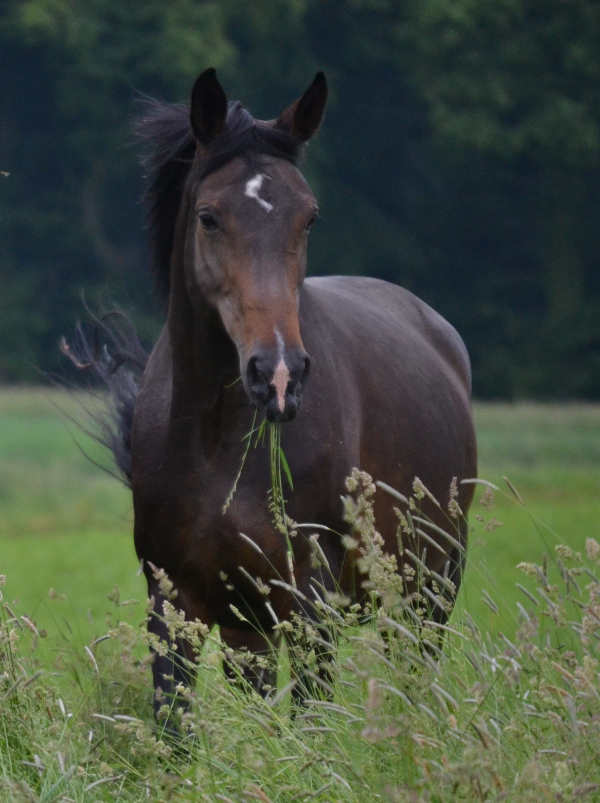 Florencio
Florestan I
Fidelio
St.Pr.St. Raute
Walessa
Weltmeyer
Pirelli
St.Pr.St. Duenett
Duerkheim
Duft II
Wunschfrau
St.Pr.St. Winnie
Wittelsbach
Drilla
Patrizia (State Premium Mare and Hanoverian Jumping Breeding Program (PHS))
Hannoverian chestnut mare, 3rd June 1989 - 2nd Nov. 2015 (26 years)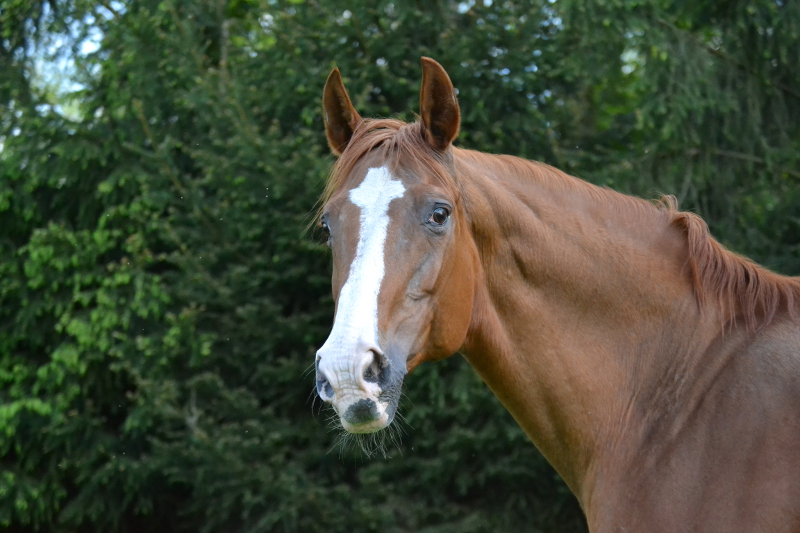 Grannus
Graphit
Grande
St.Pr.St. Frutana
St.Pr.St. Odessa
Ozean (Trak.)
St.Pr.St. Gitta
St.Pr.St. Preciosa
Inschallah AA
Israel AA
Resena X
Pamina X
Shagya XXXIX (Shagya)
Pieruschka X
Pedigree breeding value: 141; was part of the Hannovarian Jumper Breeding Program; was mother of a licensed stallion and various sucessful horses in sport up to S-level.
Immediate contact
0049 - 172 - 5122605 for the dressage horses 0049 - 177 - 4128108 for the jumping horses
The horses are located near Hannover, Germany